Bringing Life Science to the Cloud
Providing qualification and validation consultancy, information technology and Cloud Governance, we can help transform your IT. Our risk based approach is a complete journey into the Validated Cloud environment. From vision through qualification and implementation to operations and governance, we help you transition into the GxP Compliant Cloud.
Cloud applications offer a wide variety of functionality. If your organization is in need of a new application but you cannot source this on your current IT infrastructure. It is possible you just adapt a single application from the cloud and connect it to you existing IT infrastructure.
Not all organizations can migrate fully to a cloud based solution. Investments made in the past can prevent a company to move entirely to the cloud. We see a lot of companies invested in legacy applications in the past which are not suitable for a cloud migration. A hybrid solution is the way to go if your company wants to start using the benefits off the cloud.
This strategy is used by companies which already have adapted cloud partially and want to fully adapt all the benefits of the Cloud. The last application are replaced by cloud variants or are already replaced. These transitions are often very successful because of the gained experience with cloud infrastructure in the past.
Choosing the correct cloud platform is crucial to a successful cloud adaptation. Knowing what you need in a cloud platform and what you don't need will give clarity in the available options. To create a solid overview, you will need to define what is important in terms of availability, performance, capacity, cost control, risk management and compliancy.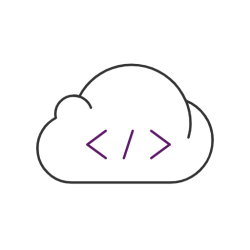 Minimizing the impact on your operation is key in a successful deployment. The risk assessment will deliver insight and help create a solid test script. Implementing new technologies will challenge your organization, during deployment all stakeholders need to be involved to ensure tests are done successfully.
The success of your cloud migration project is defined by how users experience the transition into the new cloud solution. A proper onboarding and user adoption is necessary to create a positive user experience. Ease of use is important for every user of the new system, make sure this is part of your chosen solution.